BambiniMini - prams and strollers to good prices
Mini-Preise bei kompetenter Beratung + Superservice.
Unsere besonderen Marken
Hartan Kinderwagen Kollektion 2017
Bitte beachten Sie: die Kollektion 2017 kann nur noch bis zum 14.11.2017 bestellt werden. Nach diesem Zeitpunkt ist nur noch die neue Hartan Kollektion 2018 bestellbar.
---

Besuchen Sie unseren Emmaljunga Brandstore
Neu: Ab sofort ist Emmaljunga Zubehör Online bestellbar!
---
Emmaljunga Kinderwagen sind wie bisher in unserem Fachgeschäft erhältlich.
---
---
Unser Fachgeschäft "Der MiniMax" in Querfurt
Hier finden Sie neben unseren Online-Angeboten auch alle führenden Hersteller wie Emmaljunga, Peg Perego, Recaro Autositze, Alvi, Avent ...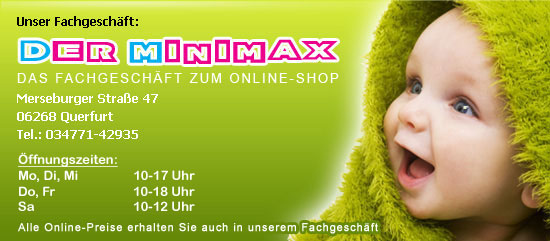 ---